With a second location recently opened on Airport Road, locally owned vegan health and beauty store Oshun Organics has been growing since its small beginnings in 2016 selling products online.
Karri Flowers, 32, is the owner and principal cosmetic formulator of Oshun Organics. She started social work before realizing her passion for sustainable health products and blending aromatic and organic ingredients together.
Flowers moved to Lynchburg from New Jersey six years ago, when she was visiting a friend and found the town beautiful.
"Up north, everything gets a little grayer and dreary and colder, and I was like, 'Why don't we go to Lynchburg?' It looked like a nice place, so we came down a second time and looked for places to stay, and that was it," she remembered.
When she first moved here, she worked for a few social work agencies before deciding to branch out into entrepreneurship full-time.
"I've always wanted to be an entrepreneur. I spent years trying to find my thing and when I started making it, I just realized it's my thing and it's something I'm really good at," he said.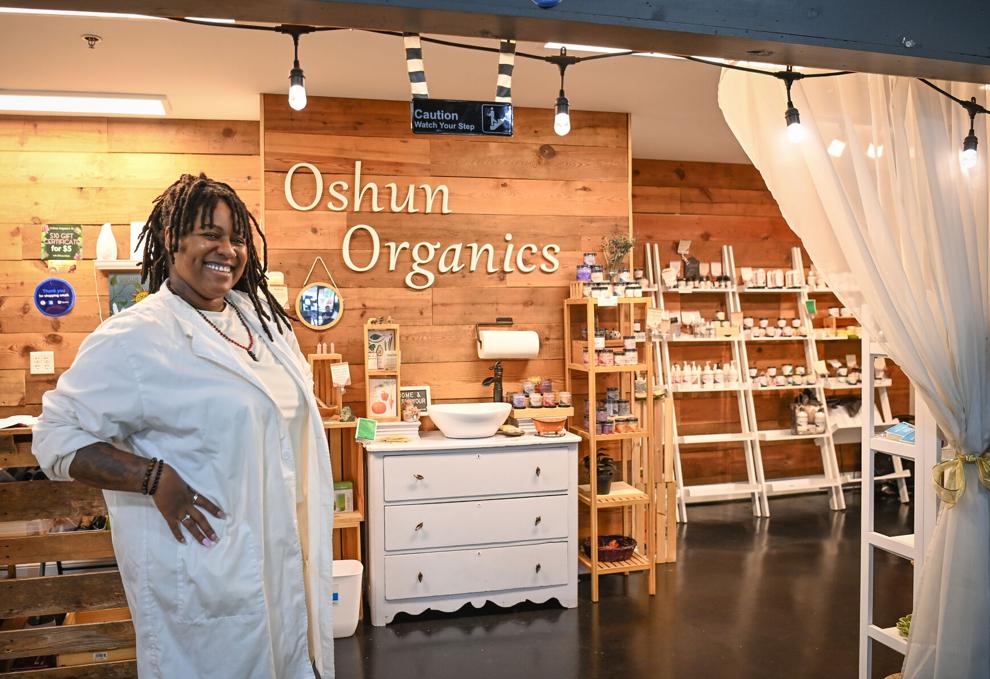 About eight years ago, she said, she went on a personal journey to become more educated about what she was eating and what she was putting on her skin.
"I started reading all the ingredients lists and then going and researching and trying to find out how things were made, where they came from, and with that I became more empowered," she said. "And I wanted to pass that knowledge on to other people, so I started making things that were more advanced than just mixing butter and oil together."
Initially, Flowers was making the scrub with coffee only for her personal use, but once she became more educated, she decided to scale things up a bit.
"I started making cold process soap, which was my first major foray into whole science," she said. "Horrible soap but I fell in love with the process of making it."
That's where deodorant came from.
"I went on a mission to try to create a natural deodorant that wasn't just coconut oil or baking soda and that was the second big thing I created, and I still sell it today," she said.
He added that people are becoming more conscious about sustainability and want to use safe products.
"I started poking around and trying to figure out my own formula for things and some of them weren't good, some of them were great. It was just trial and error and giving things to people and working on that." But had to get their feedback," she said.
After finding success selling products online, Flowers found a booth at the Lynchburg Community Market for the weekend. When a storefront opened at the market in 2019, she petitioned for it and has been there ever since.
The store now sells body butters, foaming body scrubs, essential oils, face scrubs, hair care products, moisturizers, and baby care.
A satellite store opened at 1765 Airport Road. Suite E this month.
He enjoys talking to customers and helping educate them about the products.
"I'm really glad people always have questions about how things work. I'll open up to you about how these ingredients affect your skin," she said.
Jeannel Smith of Lynchburg met Flowers in 2017, was given a bar of Lemon Poppy Seed soap and was hooked.
"I was thrilled when she started selling her handmade bath and body products at the Lynchburg Community Market in 2018 and I could buy them regularly," Smith said. "They also make highly cherished gifts. We use her soaps, lotions, shampoo and conditioner bars, lip balms, face scrubs, and my favorite product, her curl cream.
Smith said her hair is frizzy and unruly, and curl cream is a natural product that keeps her curls manageable.
"We are so fortunate to have Karrie in Lynchburg. Not only does she create amazing plant-based products, but she listens to her customers and their needs and responds by creating new offerings to meet those needs." I cut my hair into a Mohawk, so I needed a different type of product, and sure enough, she had one in the works, Clear Hair Cream."
Smith said she doesn't need to read labels to check for unwanted ingredients because they aren't there. She also said she enjoys supporting a local, women-owned business.
Salina Khanna of Lynchburg said she shares the same principles and practices that Flowers has built its business on.
"The face behind the name is everything to me," she said. "Not only was I looking for local products when I met him, but I was thrilled to find that his principles and mine aligned and that we had the same goals."
Khanna said she relies on the soap, shampoo and conditioner she uses regularly.
"That's saying a lot. I'm not someone who blindly trusts the ingredients that are going into my or my family's bodies," she said. "Skin is your largest organ and what you put on it directly affects your well-being."
People passing by the shop in the market can see flowers making everything in the house.
"I do everything right here. So I sit down and figure out what kind of product I want to make," Flowers said. "And then the biggest thing is, how is it going to work? How is it going to be effective? And then you base that on the ingredients that you want it to do. So that's where I build everything from scratch.
She said she never wanted anyone to have the same fear she was wondering what by-products she was using.
"I just want people to know that they can take it back for themselves and go and see things and go and research. And it doesn't have to be scary," she said .
,